Testimonials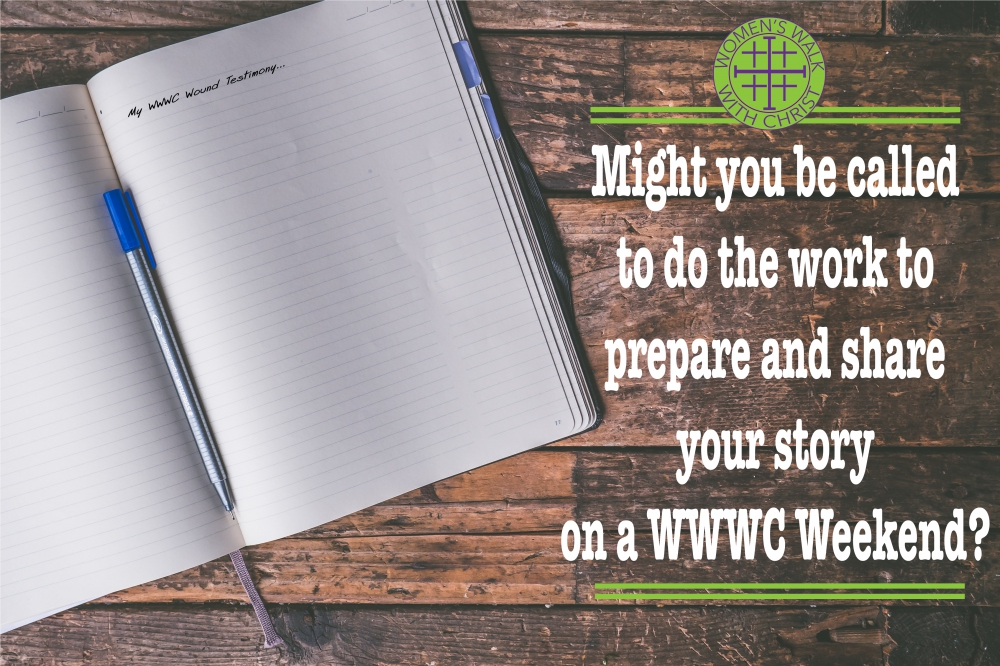 Giving a testimonial is another way of doing our healing work. Testimonials can be a powerful means of God's grace for staff and Missioners alike, leading women into trust, surrender, and healing. The primary purpose of WWWC Weekend testimonials is to help prepare the Missioners to do their personal healing work. To this end the staff woman who gives a testimonial:
Models radical transparency and trust to Missioners, demonstrating that the WWWC Weekend is a safe place for honest and deep sharing.
According to her own experience, suggests a framework for the Missioners' understanding of their own deceit, fear, anger, sadness, or shame.
By her presence as a staff member and her willingness and ability to share her story, witnesses to the truth that healing is possible by God's grace.
As part of every Women's Walk With Christ Weekend, individual staff women volunteer to prepare a Testimony to speak about their lived experience of one of the five wounds:
deceit
fear
anger
sadness
shame
We also have staff women speak about their experiences in their Bridge/Spirit Circle and about living in mission (mission statement).
The Process (updated for 2023):
You don't walk alone when you write your testimony for a Weekend. Each woman who prepares a testimonial is paired with a testimonial facilitator who leads her through the writing process.
The speaker's responsibilities are to:
Pray regularly.
Answer the questions provided with complete honesty and authenticity according to our WWWC Agreements.
Cooperate with the guidance of her facilitator.
Communicate in a timely fashion with her facilitator about any concerns or difficulties.
Be prepared to do work in Spirit Circle related to the preparation of the testimonial, if necessary.
Share her story with Missioners and staff on the WWWC Weekend.
Eligibility: While every woman has stories that are worthy of being shared, we have established the following criteria, for this staff role.
The volunteer...
Is an active member of a Spirit Circle in which you regularly attend and do work in circle (you attend at minimum once a month).
Has staffed three WWWC Weekends, making you eligible to share a testimony on your 4th staffing.
Is confirmed to staff the Weekend for which she is offering to prepare and give a testimonial.
Has a regular practice of prayer and a supportive community.
Has done healing work on the wound about which she wishes to speak.
If currently working with a mental health professional, has consulted with that professional, who has confirmed that it is safe for the volunteer to participate in this service.
Is feeling strong and grounded in her mission.
For more information on Testimonials, eligibility questions, or to volunteer to do this important work, please email: Carolyn Ruch