Day of Prayer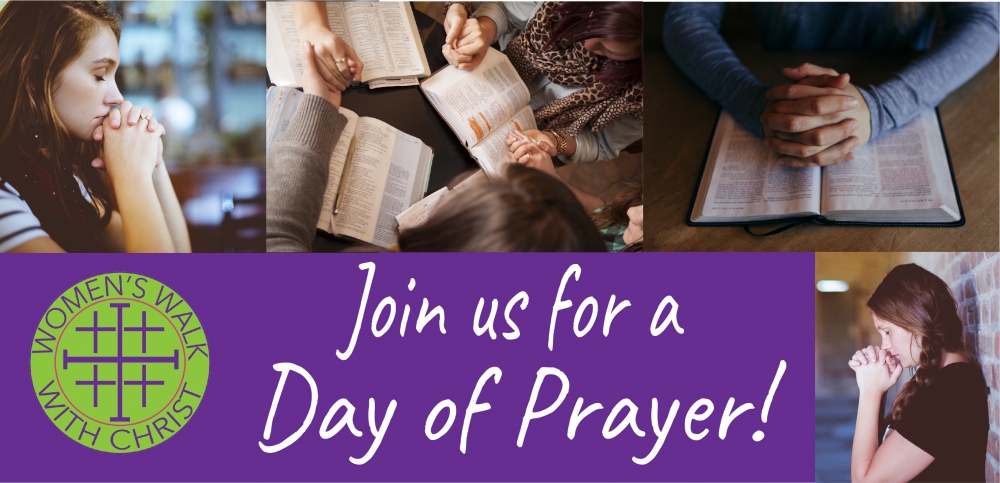 "The Lord's unfailing love and mercy still continue,
fresh as the morning, as sure as the sunrise."
Lamentations 3:22-23

Please join us for another powerful day of prayer on Sunday, May 17, 2020.
We give glory to one God, Father, Son, and Holy Spirit. Our world, our families, and friends still need our prayers.

You may use the outline below to pray anytime during this day OR you may choose to join your sisters in a Virtual Prayer time LIVE at one of the following times – 3pm or 7pm, Eastern Time. (Please adjust for your time zone as necessary.)

At these two times we will use a ZOOM link so you may actively join your sisters online to offer praise to our God, to pray for your needs, and special intentions. Prayer in your native language will be welcomed and encouraged as some might be joining from different parts of the world or have a different first language (other than English).

Personal prayer is a time to talk to and listen to God. What a gift to give yourself – an hour with your Creator – Father, Son, and Holy Spirit.

Click the Zoom Prayer Meeting link below (3pm EST or 7pm EST):
---
As you settle in for your hour with God here is an outline for you to follow:
Romans 12:12 says:
"Be joyful in hope, patient in affliction, and faithful in prayer."


Part One – Awareness of the Greatness and Wonder of God

This is the time to simply enter into God's presence. Be aware of sitting in silence and awe as you recognize the goodness and love of God. When you sit in His presence you are on holy ground!

Song – Michael W. Smith – "This is the Air I Breathe"

Scripture -- Psalm 48:9-10, 14 "Within your temple, O God, we meditate on your unfailing love. Like your name, O God, your praise reaches to the ends of the earth; your right hand is filled with righteousness…For this God is our God forever and ever; he will be our guide even to the end."



Part Two – Thanksgiving

This is a beautiful opportunity for you to thank God for all that He has done in your life. It's a time to rest in His presence and love of you. A time to acknowledge Him, to worship Him and give Him praise.

Song – Casting Crowns – "Listen to Our Hearts"

Scripture – Psalm 92:1-2 "It is good to give thanks to the Lord, to give praises to your name, O Most High; to declare your steadfast love in the morning and your faithfulness at night."



Part Three – Repentance

God's love for us and His never-ending forgiveness of our sins is amazing to ponder. Take this time to express sorrow for your sins. Think of ways to avoid those occasions that lead to sin. Ask him to grant you awareness at those moments so you may choose differently. Seek His Mercy.

Song – for King and Country – "O God Forgive Us"

Scripture – I John 1:9 "If we confess our sins He is faithful and righteous to forgive us and to cleanse us from all unrighteousness."



Part Four – Petition

As you spend this time with God let Him know your deepest, most personal needs. Pray for yourself, the needs of your family and friends, and indeed the whole world. Pray for our Women's Walk Board and Management Team members as they strive to follow where God is leading.

Song – Chris Tomlin – "How Great Is Our God"

Scripture – Nahum 1:7 "The Lord is good, a refuge in times of trouble. He cares for those who trust in him."



Closing Prayer

Take Lord, and receive all my liberty, my memory, my understanding, and my entire will, all I have and call my own. You have given all to me. To you, Lord, I return it. Everything is yours, do with it what you will. Give me only your love and your grace, that is enough for me. (St. Ignatius)

Thank you for praying with us and may God continue to Bless You!


The 2020 WWWC Discipleship Team
Linn Crowell, North Carolina
Kathy Juergens, Colorado
Joan Munro, Pennsylvania
Julie Reuter, Kansas
Jean Simmons, Colorado
Jamie Sorensen, Minnesota
Lucy Walsh, Colorado
Janine Westlund, Colorado
Rhonda Whyte, Colorado